During the chaos of last years NAMM and the birth of more iPad, iPhone musical devices than ever before, only the Numark iDJ Pro made me sit up and pay attention. It's not the first of its kind, and there have previously been well… unsuccessful attempts at an iPad based DJ controller, with none being able to give professional features or controls. So it seems Numark were the first manufacturer to have a proper attempt and simply by looking at the images you can see that it's not a novelty and was designed with proper gigs in mind. I'll be looking at whether it's as good in practice as it is in appearance.
If you've used any of Numark's recent DJ Controllers there'll be no great surprises in terms of the layout. It's got two touch-sensitive platters that are used for cueing, scratching effects but also loop in and out, ½ and 2x loop length; pitch fader and bend controls. You're not exactly spoiled for features but it is enough to do a successful set in a respectable club, and iPad or not, for unit of this price range that is to be expected.
The introduction of the iPad however does give unfamiliarity to the middle of the unit. The iPad provides the music library and all-round control of the unit. One positive that comes with integrating an iPad is the benefit of a well designed and produced app, in this case the Algoriddim djay app. They were both designed to partner each other so this is the recommended purchase but it is compatible with other DJ apps so you can experiment around.
I think Numark have targeted a very specific audience with the iDJ Pro iPad dock, it's not limited to it, but it is perfect for house parties and small venues. Probably the best feature is its Airplay compatibility, which means you can stream to any speakers that work in harmony with this feature. This means no tripping over wires or complicated set-ups, again ideal for its purpose. Extending its parameters however, it does come with balanced XLR outputs for secure and noise free connections to larger PA systems. Crucially to protect the iPad and the unit the iDJ Pro has a robust, brushed aluminium case, to ensure there no accidents in the booth.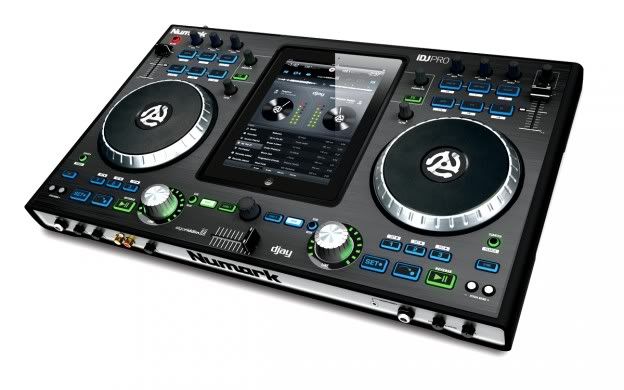 In my opinion this no way near as good as an iPad based DJ controller could be, however it is the best available by a country mile. Personally I wouldn't want to use it in a large club but I would have no issues using it at house parties and bars. As well as it being really cheap, it's also really convenient as it's an all in one unit and there is no additional music or equipment to drag around. If you've got an iPad I would highly recommend the iDJ Pro, even if it's just for messing about at home with.