I am quite disappointed the fact the functionality of the Apple iPad 2 dock. It is not about the design. The white accessory is stylish, unexpectedly heavy and looking secure, but the real point is the lack of functions. Why would you pay around $27 just for a charging stand? It has no cables and we get only audio out. It is portrait only. And, you can not put iPad 2 on the docking station with smart cover or most probably with most cases on it. This is a big downside in my opinion.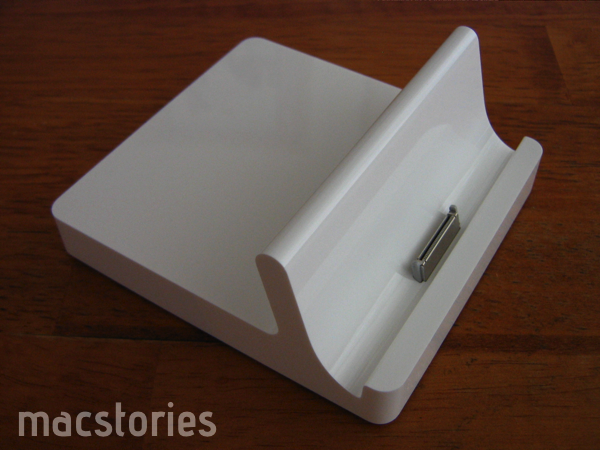 There are many alternatives from 3rd parties now to provide a better experience as a base station for iPad 2. For example, iLuv ipad2 dock or iSound are just two of them. Both of them provide built-in speakers. If your sole reason is to use it for typing with a bluetooth keyboard, ZaggMate keyboard case or ZaggFolio would be better choices. Because they feature an integrated keyboard, case and multiple angle stands.
There are positives surely. The build quality is impressive. If you have owned a Time Capsule, you will understand me. The white plastic is very sticky and sturdy. Do not worry. Your iPad 2 will not fall even though this gadget looks very weak to support it. It is not.
So,  my rating would be 6/10.
Click here to read more customer reviews on Amazon and compare with other iPad 2 docks